Welcome educators, school leaders and staff! The Every Day Counts! Taskforce meets on a bi-monthly basis and is a partnership among diverse District of Columbia agencies and stakeholders that collectively advance and coordinate strategies to increase student attendance and reduce truancy. The group includes representatives from education, justice, health clusters of the Administration, allowing for development and implementation of comprehensive attendance policies. Guided by an Ed Stat model, each Every Day Counts! Taskforce meeting focuses on a specific topic related to attendance. To view the Every Day Counts! Taskforce presentations, visit the Every Day Counts! Taskforce tab. After each meeting, the Taskforce posts key takeaways and relevant resources here.
In addition to the meeting takeaways and resources, you will also find resources related to encouraging and rewarding good and improved attendance. Please feel free to modify the resources to best fit the needs of your school community. For additional support and resources, please check out the For Families and Students tab.
Resources for the Start of the School Year:
Topic: Improving Attendance and Fostering Family Engagement (October 2018)
C.W. Harris Elementary School
In the 2017-2018 school year, the Attendance Team at C.W. Harris Elementary School saw a significant reduction in the school's chronic absenteeism rate. Below are a few promising strategies used:
Attendance Student Support Team (SST) weekly meetings
Diversity of the team
Systems and access to information
Connect supports to family engagement best practices & Academic Parent-Teacher Teams (APTT)
Daily Incentives for Students-Attendance, Wheel of Fortune
Incentivizing parents and families for improvements
View C.W. Harris Elementary School Presentation
Topic: Forming Strong School Attendance Teams (June 2018)
Spotlight on Success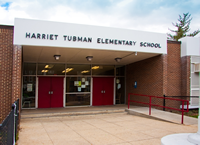 In the 2016/2017 school year, the Attendance Team at Harriet Tubman Elementary School used previous years' data to identify 80 students who missed 15 or more school days in the year. Through the following supports, school attendance significantly increased:
Early Preventions:
Used Aspen Portal to identify students who were chronically absent in the 2016/2017 school year
Partnered with community organizations to help improve family engagement strategies
School counselors, social workers, and other members of the Attendance Team developed caring relationships with families early on through phone calls home, letter communications, and regular check-ins
Continual Support for Each Student:
Used Aspen Portal weekly to monitor attendance progress among identified students
Established weekly and monthly incentives to encourage students/families who made attendance progress (ex. Field trips, festivals, parties)
Check-ins with students/families that were still having attendance challenges and identified strategies for continual school support
Monthly parent breakfasts to listen to feedback and develop action plans for success
View Tubman Elementary School presentation
At the meeting we learned the following:
Decreased absences: Youth with mentors had fewer unexcused absences from class than students without mentors. Students who meet regularly with their mentors are 52% less likely than their peers to skip a day of school and 37% less likely to skip a class.
Recruiting mentors: Word of mouth is the primary way in which organizations recruit mentors. 70% of organizations indicated that they do not have enough mentors to provide quality mentoring services.
Risk factors: The most prevalent risk factors among young people who are being mentored are school related, followed by trouble with the law and homelessness.
School based programs: In order to create a successful school-based mentorship program, the following advice was shared by practitioners: start within your school, start small and one size approach does not fit all schools' needs.
Spotlight on Success

Eastern High School's 100 MORE (Mentoring Others, Raising Expectations) provides opportunities for young men to mentor one another and find a mentor in an adult in their life with many school based staff participating in this mentor role. Through service learning opportunities, international and domestic travel, empowerment conferences, and professional workshops students are motivated to lift up others and to strive for success as leaders in their communities. For more information regarding the program, please contact Ivan Douglas at [email protected].
Recommended Resources
Topic: Trends by Time of Year (March 2017)
At the meeting we learned the following:
Days of the week: Student attendance is highest on Thursdays and the lowest on Mondays (followed closely by Fridays).
Temperature and time of year: Students are more likely to be absent when the temperature is between 31 – 40°F and attend with the highest frequency on days between 91- 100°F which also correlates with time of year. Attendance is highest in the fall and lowest in the spring.
Weather conditions: Students are 1.4 times more likely to be absent on days when it is snowing compared to days with no inclement weather.
Truancy pick-ups: MPD Districts 5, 6 and 7 have the highest percentage of pick-ups.
Spotlight on Success
During the year, E.L. Haynes Public Charter School noticed a pattern of low attendance on Mondays, Fridays or the day before or after a holiday. To increase their middle school in-seat attendance rate for the spring until the end of the year, they announced a special competition to staff, students and families after winter break. E.L. Haynes developed "Spring Forward to Excellent Attendance," which is a three-month competition that began on March 1st. Students and teachers have the opportunity to earn incentives (individual, grade level, school-wide) every month. To reinforce the importance of Every Day, On Time attendance, the many incentives provided to students and teachers are prize bags, $10-15 gift cards, dress down passes, and a Day Dance. Traditionally before long breaks and on Fridays, E.L. Haynes would have a significant number of students out. For this reason, they implemented "Fun Friday" celebrations before spring break to celebrate the students who achieved on time attendance and the grade levels who achieved the highest In-Seat Attendance rate for the month. Since implementation of challenges and the competition, E.L. Haynes Middle school has seen a nearly two percent growth for 6th and 7th grades. For more information regarding E.L. Haynes' attendance initiatives, please contact Vanessa Lewis at [email protected].
Recommended Resources